Hello everyone, and happy Sunday to you all ❤
In today's writer's log, I wanted to talk about my journey to lower my waste and become more mindful and consume less stuff.
This topic is a bit loaded these days with all the environmental issues we are having and people from all over the globe open up about their opinion on this. For me, though I am sure that people in my life and even my husband are thinking that this is just a phase or following some trend… This is not the case with me.
I am under a lot of stress almost all the time, and because of that and my illness my body started to reject a lot of the food I am eating so I've become as you already know, Gluten-Free Vegan (+peanut free) and I already feel the huge difference it made on my body for the better.
However, taking care of my body is great but I am feeling a strong pull to taking care of my mind, my home and my environment.
It is a well-known fact that when your surrounding is not cluttered and not overstimulate you, then you can accomplish more and be more creative. It is true that there are people out there that can thrive in chaos, but I am not one of those people. I need clean and open space to create and think and I want to that in the most sustainable way I can.
My journey with lowering my waste and being more minimal had begun a few months ago, but it will take the entire year I think to get to where I want us to be. I will never be one of those esthetic minimal people, hehe but I do want to lower the amount of stuff we own. I don't want to feel that we are paying rent for our stuff, I want things that are useful to our lives but also that makes us happy.
I want to create the space for us that will bring us together and make the space for me to create again and feel that I can sit and write and not worry by all the chaos we are living in. Don't get me wrong our house is relatively organized but there a lot of things that still don't have space and where to put them.
As I mentioned in my post Another Minimalism Game, I wanted to declutter lots of items from our home and I've already decluttered over 150 items not including over 60 books.
All of these changes are a bit hard for my husband, but slowly I hope that he as well will see the benefits of not buying so much stuff and living a more meaningful life by creating a better space for us to live in and for our environment. We may never be zero waste but I know that I can lower my waste, even by just not baying every piece of shining cute item I see in the stores or on Instagram.
Well, that's it for today's somewhat short update, hope you are having a good day and I will see you tomorrow 😀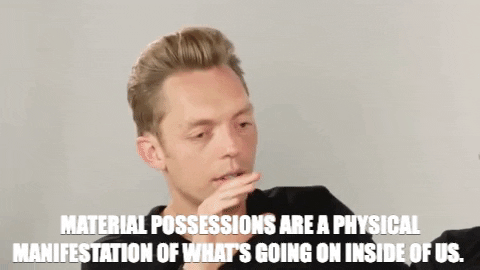 (Btw, This gif is so true in my case, hehe)
As always, thank you so much for reading ❤